The National Career Counsellors Network will conduct the event focusing on careers in 101 fields at India International Centre, New Delhi.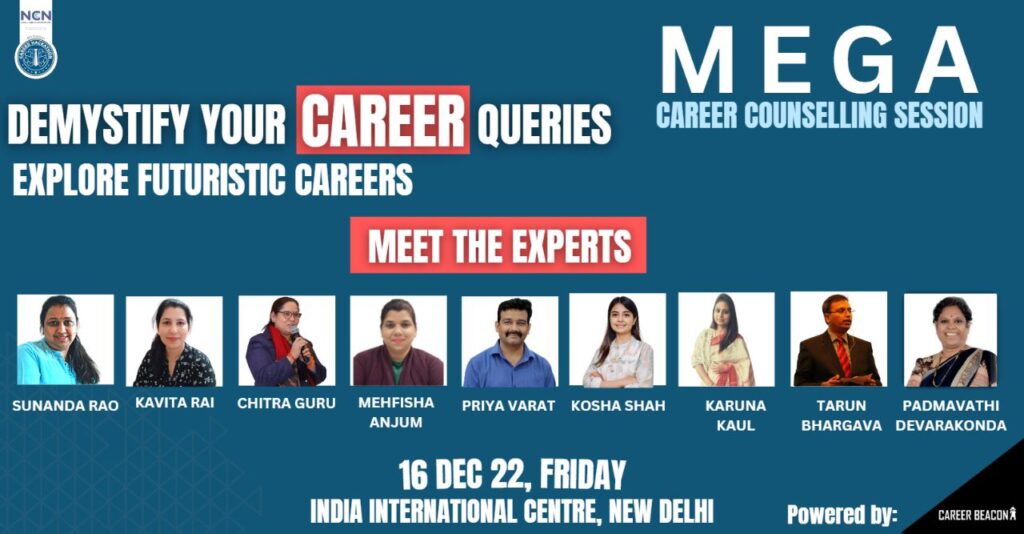 A team of Career experts is now available in your city to meet you and have an hour-long counselling session with you and your child.
Join the complimentary 3 hours open Career Guidance Session where the Career Counsellors, HR Head & Academic head will guide students & fresher and create awareness among the people, as getting employable is a significant concern though the options are many.
It is a need of the hour to create awareness among the students and Fresher to make them employable.
This in-person career counselling event for Delhi, NCR School students will kick off this year with a Mega Career Counselling Session on Dec 16, 2022.
The National Career Counsellors Network, in association with Career Beacon, will conduct a Mega Career Counselling Session focusing on futuristic Careers.
Students can avail of Career Counselling from India's best Career Experts at no cost.
Students of Class IX to XII will receive Career Guidance & Freshers & Undergraduates and Campus to Corporate Orientation by HR Head from Mobility Industry.
To register for Complimentary Guidance, click the link below.
Here's why you shouldn't miss out:
Personalised Career Guidance at ZERO cost.
Get awareness about the CUET admission process in 2023/Certification Courses & Stream Guidance & Study abroad guidance
Placement Fair for Job Seekers
Gift voucher of INR 1500/- to each student.
Certificate of participation.
Please do not forget to collect a Gift Voucher worth 1500/-