Introduction to B.Tech Aerospace Engineering,Job Profiles, Specializations, Eligibility, Admission Process, Entrance Exams, Top Colleges, Top Recruiters & Salary Package
Many of us are curious about aerospace Engineering, items or airborne vehicles such as aircraft, rockets, etc. But do you know who works upon these things? An Aerospace Engineer.
Introduction of Aerospace Engineers
Aerospace Engineering is a four year Undergraduate Course. An aerospace engineer is considered the most famous and vital field of engineering designs and applied physics. It  is a branch of engineering which provides the knowledge and skills to design, function, manufacture and maintain aircraft, spacecraft, missiles, weapons systems and more.
Aerospace engineering combines or covers the knowledge of two other branches of engineering, namely Aeronautical Engineering and Astronautical Engineering. Aerospace engineers also consist of parts of Mechanical Engineering, including mathematics, robotics, physics, computer application, drafting, electricity, aeronautics, and many more.
Aerospace Engineering is considered to be one of the most rigid branches in engineering. This aerospace engineer branch has an end number of opportunities. Completing or doing aerospace engineering will give candidates immense career growth.
Aerospace Engineer
Aerospace Designer
Assistant Technical Officers
Aerospace Designer Checker
Aircraft Production Manager
Thermal design engineers
Mechanical Design Engineers
Specialization in Aerospace Engineering
Candidates can specialise themselves in the core fields available in an aerospace engineer:-
Aeronautics
Control System
Navigation
Aerodynamics
Celestial Mechanics
Space Mission Design and Planning
Aircraft and Spacecraft Guidance and Control
Propulsion
Spacecraft and vehicle design
Small Satellites
Electronics
Thermodynamics
What is Eligibility Criteria
Candidates must follow the eligibility criteria for admission into an aerospace engineer course. Look at the following requirements:-
The first mandatory requirement for going into aerospace engineering is to choose Physics, Chemistry, and Mathematics (PCM) as subjects.
Candidates have to pass their class 12th with a minimum percentage of 60 from a recognised board.
For the Post-Graduation level, candidates have to score at least 60% on their graduation degree.
For taking admission into Aerospace Engineering, candidates have to clear entrance exams which can be National level, State level, or even University level.
Candidates can fill out the online forms according to their preferences. Once they have scored marks in their entrance exam, they are eligible for counselling rounds. Some of the universities conduct interview rounds as well.
Entrance Exams for Taking Admission into Aerospace Engineering
Several entrance exams are conducted at the national, state, and university levels for admission into Aerospace Engineering. So, let's see the entrance examination for becoming an Aerospace Engineer.
JEE Main (Joint Entrance Examination)
JEE Advanced (Joint Entrance Examination)
VITEEE (Vellore Institute of Technology Engineering Entrance Examination)
WBJEE (West Bengal Joint Entrance Examinations Board)
BITSAT (The Birla Institute of Technology and Science)
SRMJEE (SMR Joint Engineering Entrance Exam)
UPSEE (Uttar Pradesh Combined Entrance Test)
MH-CET (Maharashtra Common Entrance Test)
IIT Kanpur
IIT Bombay
Manipal Institute of Technology (MIT), Manipal
KIIT Bhubaneswar
IIT Madras
Lovely Professional University, Jalandhar
UPES, Dehradun
IIT Kharagpur
HITS Chennai
SRM Institute of Science & Technology, Chennai
Vellore Institute of Technology (VIT), Chennai
BMS College of Engineering, Banglore
Amity University, Noida
Top Recruiters of Aerospace Engineers
As Aerospace Engineering has been one of the most challenging and best engineering branches, it has excellent opportunities for candidates in the public and private sectors of the country.
DRDO (Defense Research And Development Organization)
ISRO (Indian Space Research Organization)
Defense Research and Development Laboratories
NAL (National Aeronautical Laboratory)
HAL (Hindustan Aeronautics Limited)
Civil Aviation Department
Air India
Tata Advanced Systems
Larsen & Toubro
Mahindra Aerospace
Salary Package for Aerospace Engineers
Aerospace Engineering is a perfect field for candidates, filled with immense opportunities. The salary packages of the candidates are perfect. The average salary of freshers is about Rs.6 lakh to Rs.8 lakh per annum. It also depends on the individual's knowledge and skills.
However, with the increase in experience, the salary package also increases. The average salary of an experienced Aerospace Engineer can somewhere lie between Rs.12 lakh to Rs.16 lakh per annum.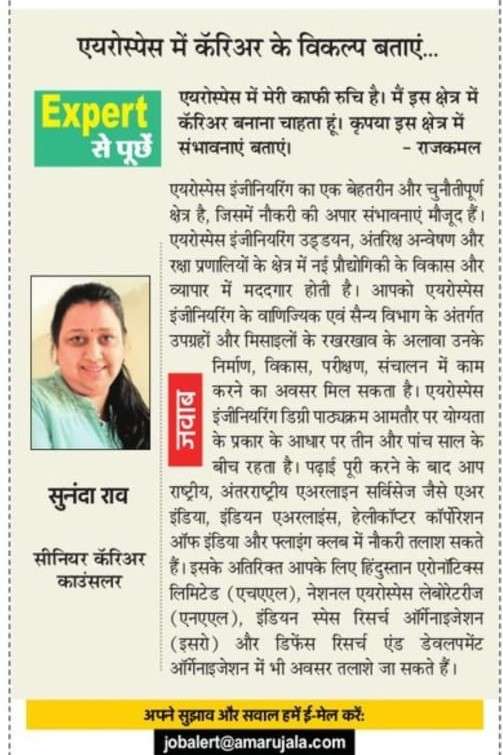 Our Career Expert shares the expert advice in the National Newspaper.
If you are further interested in knowing more about this topic and seek some Career Expert help. Book a Complimentary Session